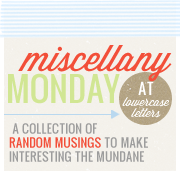 one. I am usually not one to like Mondays but yesterday was just an awful day so I am so thankful it's over. Working all day and petty arguments with the one you love just sucks. Oh well, today is a new day and I am hoping it will be a good one.
two.
I asked my boyfriend what he wants for Valentine's Day and you know what he said? A visit to the Chiropractor. Not a traditional Valentine's Day gift by any means. I guess it solves my issue of getting him something original but it's not what I had in mind. I might need to buy some corny traditional Valentine things for him too...
three.

We have been getting decent weather in Florida recently but I am so ready for consistently nice not-too-hot, not-too-cold weather! I want to wear shorts, sandals, and dresses so bad.
four.

Sometime this week I will be getting my accessories package from the I Heart Accessories Swap. My partner is the lovely
Kristen
and I can't wait for both of us to see what we got! I will post later this week to show off my new stuff :)
five.

Tonight I am baking! I am going to bake some red velvet cupcakes with cream cheese frosting. It's been too long since I have baked so it is much needed.