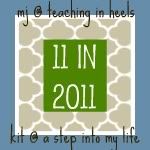 I just have to say that I am posting while at my very new campus! School started today for most college students and this semester is new to me because I am at a branch off campus from UCF. I am at the Rosen College of Hospitality that is geared towards my major. It's such a beautiful and quiet campus compared to the university one. Plus they don't allow smoking on campus which is amazing! I am currently on a two hour break before my second class of the day so let's just say I am a little bored...
Yes, that is my school. Pretty, right?
Now onto today's 11 in 2011 challenge:
As I am young and a college student, most girls my age go out to bars or clubs when they have a girls night out. That is not my scene whatsoever. Not only do I have school and two jobs to worry about, I just don't see the fun in wearing inappropriate clothes and getting drunk.
So my idea of a fun girls night out would be to see a cute new chick flick out in theaters or grab dinner at a nice restaurant.
Something my friend Mackensie and I did one time was go the restaurant called The Melting Pot and we went just for dessert! The chocolate fondue is absolutely amazing there and we saved money by eating dinner at home.
I really need to have more of a social life this semester though. Last semester I was consumed by school and work and I missed out on a lot of fun.
Have a wonderful Monday friends!