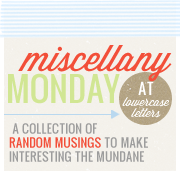 one.

I had to work on Sunday morning and when I went to my boyfriend's house after work, he had these babies waiting for me...
Four little mini cupcakes from Sweet! By Good Golly Miss Holly. It's a local cupcakery here in Orlando. He got me two banana and two red velvet, my two favorite flavors! YUM.
two.
One of my classes this semester is driving me crazy! It's my Hospitality and Tourism Marketing class. It's a hybrid class which means it's half lecture and half online. Because we only meet in person once a week, I feel like I never know what's going on in that class. I hate feeling lost.
three.
My brother has moved out of the house and now I get his bigger room! I am so excited! This means I get a bigger bed with a new bedspread and everything. I can't wait to have more space. My tiny room is so cluttered with stuff because I have outgrown it. I have been looking at bedspreads online and everything but haven't found one I love yet. I will be posting more in the next few weeks about my room transformation!
four.
This weekend I have another bridal show to work! I think it's so much fun to interact with future brides :)
five.
On a sad note, please pray for my boyfriend's grandfather. He was just diagnosed with colon cancer and it's been hard on both Rusty and his family. Rusty and I went to visit his grandparents on Saturday and that is when his grandfather told him the bad news. His grandfather is being very stubborn about treatment and refuses to stay overnight in the hospital so please pray for him.
I hope everyone has a wonderful day!