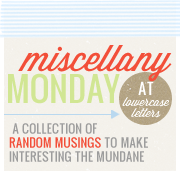 one.

Our plants are now in the garden! On saturday afternoon, the boyfriend and his brother moved all of the babies from their pots to the ground. The seven garden beds are complete with wood on either side and green garden netting on top to keep animals out.
two.

The boyfriend and I are thinking about going to Colorado sometime in December. My aunt and uncle live there with my cousin Jessica and he has a friend he wants to visit so I think it would be a fun trip! Plus we would get to see snow which would be a huge contrast from the Florida weather we are used to.
three. I can't stop thinking about Thanksgiving. I have been watching the Food Network nonstop because all of the turkey recipes look so yummy. One of my favorite Thanksgiving episodes was from Claire, the host of 5 Ingredient Fix. You can see her recipes, shopping list, and cooking timeline here.
four.

I went shopping yesterday for two of my friends who have birthdays coming up and
MAC
(Makeup Artist Cosmetics) has some great little holiday gifts. Their theme this year is Scottish plaid and so cute!
five.
I found these cool little cupcake liners at the grocery store. They are Staybrite Cupcake Liners from Reynolds brand and they don't fade after baking your cupcakes!
mmm...I need to bake some cupcakes soon. I'm thinking pumpkin spice flavored!