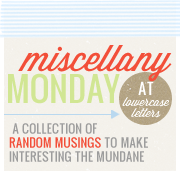 one.

I had an amazing weekend. It was relaxing and productive all in one. Exactly what I needed after a stressful last week.
two.

Happy 3rd birthday to my brother Braden! We were going to celebrate this weekend but decided to do it tonight instead. The boyfriend and I ordered him a ton of Toy Story 3 stuff so that should be coming in the mail today

(crossing my fingers!)

.
three.

I absolutely love Lunchables. I am eating one as I type right now and it's really good. They keep me alive while at school!
four.

I am starting to enjoy riding on the back of my boyfriend's motorcycle. I used to be petrified at just the thought but I am slowly starting to love it. Braden tried on my helmet this weekend and looked super cute :)
five.

It's kind of funny how empty my school is today, I think lots of students had a little too much fun with Super Bowl parties last night. It's irritating though when two of my group members don't show up to class...especially the group leader! Ugh.
six.

I am really looking forward to Valentine's Day! Last Valentine's Day, I had to work at night so the boyfriend and I celebrated the Friday before. This V Day we are celebrating the Friday before and then relaxing Monday night and exchanging gifts. BTW, I still have not gotten him anything!! I am procrastinating which is never a good thing.
I hope all of you have a wonderful Monday!