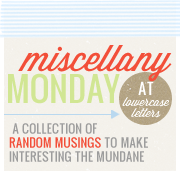 one. I am kind of dreading this week because I work sooo much this week. I have six shifts this week. Ugh.
two.

But a week from today is Fourth of July! My boyfriend and I are going to his cousin's housewarming party which should be fun.
I can't wait to make these!
three.

Speaking of houses, I have been looking nonstop at stores for cute and inexpensive decorations for my boyfriend's future home.
Here is one bathroom set I found:
Owls. Enough said.
Okay that might just be wishful thinking...
four.

I am in LOVE with these new colors from China Glaze because they are perfect for summer. I currently have the second pink color on my nails :)
five.

I better go get dressed because I am going to see the boyfriend for lunch today. I have leftover Chinese food from last night. Let's just say dumplings are freaking delicious.