Okay I have realized that until the end of this semester, I am just going to be too busy to post as much as I used to. Mondays are really the only days I have time to post because I have such a huge break between classes so I might just be posting miscellany on Monday for the next month and half of school that I have left. Sorry!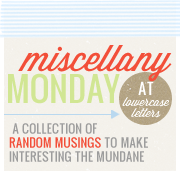 Go link up! Love the new button :)
one.

Praying for Japan! It's so sad to watch the news. A family friend of ours has family living in Japan and she still has yet to hear from them. It's so scary and I really hope she hears from them soon.
two.

Last week was my Spring Break and yesterday I was depressed that I had to come back to school today. I loved sleeping in however I wish I had taken more time off from work. Even though I didn't have school, I wish I was able to enjoy my time off more rather than work constantly. Definitely learned my lesson for next year.
three.

During the week it was work, work, work but this weekend the boyfriend and I accomplished so much. After many visits to The Home Depot, we finished transplanting all of our germinating seeds to the beds. It was a lot of work but we got it done in one day and tanned a little while doing so :) We are so happy to have it done and we can't wait 'till we have lots of veggies to enjoy!
Tomatoes will ripen soon! (From last season's batch)
four.
I just got a third job! My boyfriend's parents own a wedding videography and photography company called Rhodes Studios and I am their newest videographer. One of their videographers quit on them and they need a replacement so they offered me the job and I gladly accepted. I begin training this Sunday and I think it will be lots of fun but I am a little worried that I will be stressed out. In addition to working as a waitress, I still have my bridal assistant job and now have a new videography job. That is a lot of working but his parents assured me they would be understanding of my schedule.
five.
Tomorrow I have a parade presentation for my Entertainment Event class. We are focusing our parade on hometown heroes and I represent the education/teacher float. Our group leader wanted each girl in the group to have a guy counterpart so my boyfriend is taking off work to be there for me. I am also bringing my little brother to represent the students in education. It's going to be so cute and I hope I can get pictures of the parade!
six.
I am so excited for Wednesday because that is when I am going to cook my Irish feast :) I would do it on Thursday (actual St. Patrick's Day) but my boyfriend and I both work at the restaurant that night. I plan on making Shepherd's Pie (thanks Ty for the suggestion!), baked potatoes with lots of toppings, possibly a salad of some sort, and still working on the rest of the menu...BUT I decided on the cupcakes I am making and I am going with a chocolate cupcake that has a chocolate ganache Irish cream filling and an Irish cream buttercream. They are going to be so good so I can't wait.
Happy Monday everyone and Happy early St. Patrick's Day if I don't have time to post!