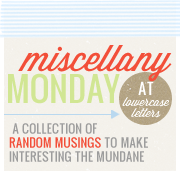 Go link up with the lovely Carissa!
one.

For those of you who don't know, I had a little accident with my laptop and I still have not gotten it fixed. I think I am just going to wait until I get back from my cruise because I can't afford to pay for it right now. Until then, I will be borrowing my parent's laptop or desktop computers.
two.

Since I last blogged, my life has been very eventful! I went with Rusty to the doctor last Friday because he was having a weird pressure in his chest. Fortunately, the doctor said that he was going to be okay as long as he relaxed and took it easy on the energy drinks. Poor thing fell asleep as soon as we got back to my house and later that day took a FIVE hour nap.
I was a creep and took this pic while he was snoozing.
I couldn't help myself because he just looks so peaceful lol.
three.

I went shopping recently to TJ Maxx and realized it is extremely hard to go shopping in a place that has so many wonderful things. From shoes to sunglasses to decor to clothes...it was extremely hard for me to be responsible. BUT I was good and just got myself a new purse (which I needed) and two gardening tools that were on sale for my boyfriend. I only spent 37 dollars. Go me!
four.

This past Friday, my best friend Hannah introduced me to the wonderful world of thrift store shopping. I have been keeping my eye out for things for my boyfriend's new pad and this was the perfect way to get cute things at an amazing price.
Halfway through our thrift store spree, Hannah and I got sidetracked and stopped at a puppy store. OMG. Bad idea. Puppies are just so freaking cute and it's so hard to not want to rescue all of them and take them home. I fell in love with a chubby little Shih Tzu puppy.
I eventually had to put him back even though I didn't want to :(
We finished our little adventure going from thrift store to thrift store and on the way home we encountered a super bad Florida thunder storm! Sooo scary. The roads were covered with water and it was a very dangerous drive home. We took the following pic while pulled into a gas station on the way home.
five.
I am beyond ready for my vacation. We are leaving in a little less than two weeks. It's almost here!